If you buy something from the links on this page, we may earn a commission. Why trust us?
13 Best Stretch Mark Creams to Actually Improve Your Skin's Appearance
Spoiler alert: Our skin is shooketh!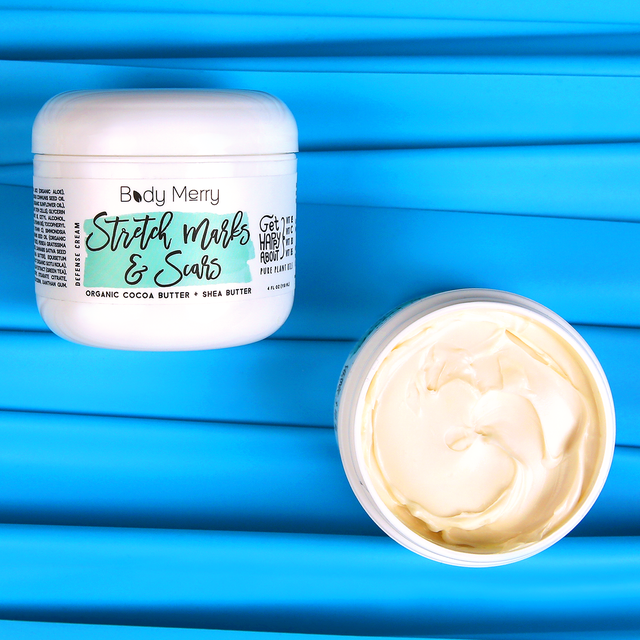 Whether you have warrior stripes from a pregnancy or have simply developed pesky stretch marks over the years, we're here to introduce you to stretch mark creams. Don't worry: You don't have to feel stuck with them.
But First, What Are Stretch Marks?
Stretch marks are simply a scar that happens when skin is stretched too quickly. You can get them any time you gain weight, and teens sometimes get them around their joints if they have a particularly speedy growth spurt. Skin expert Laura Dyer MSHS, PA-C, a dermatology and aesthetic specialist in New York City, tells Best Products that unfortunately because of how stretch marks form, we're more susceptible to getting them during pregnancy because of how fast your belly is growing.
Dyer says that while you can't always prevent stretch marks, you can definitely minimize their appearance by staying hydrated, maintaining a healthy weight, and eating foods rich in vitamin C, vitamin D, vitamin E, and zinc. And of course, it also helps to keep that belly moisturized — enter stretch mark creams.
So, What Makes a Good Stretch Mark Cream?
To help minimize the appearance of the stretch marks that you already have, Dyer notes the healing ingredients you'll want to look for in effective stretch-mark prevention creams include vitamin A and vitamin E, along with cocoa, shea, and/or jojoba butters. Vitamin A helps the healing process and also assists with collagen production and pigmentation. Vitamin E is a powerful antioxidant that is thought to help with wound healing. Cocoa, shea, and jojoba butters are thick, well-tolerated moisturizers that penetrate deeply into the skin, helping to keep it supple and healthy.
Dyer has personally used Burt's Bees Belly Butter and Bio-Oil during her pregnancy, and has said she's had "zero" stretch marks. Dyer also says you should use products that contain hyaluronic acid, which can tighten the skin and reduce inflammation to improve skin texture and help fade stretch marks over time.
Best Stretch Mark Creams
How We Tested
Armed with our expert information, we researched the top creams on the market in terms of popularity and user reviews to determine which products to test. Then, twice a day for 3 weeks, our editors slathered their stretch marks with creams, butters, and oils to find the ones that are actually effective — and will finally make a noticeable change in your stretch marks.
During the testing period, we looked out for a difference in texture (both the stretch mark and surrounding area), a change in the stretch mark's appearance, and the scent and feel of the cream itself.
These are the best stretch mark creams worth buying in 2022 that we've kept on using ourselves.
Learn more about how we test products, from the questions we ask our testing team, to the types of products we feel are actually worth testing, to the overall time we put into our testing process.
This content is created and maintained by a third party, and imported onto this page to help users provide their email addresses. You may be able to find more information about this and similar content at piano.io