If you buy something from the links on this page, we may earn a commission. Why trust us?
The Best Wireless Soundbars for Turning Your TV Into an Epic Sound System
Because quality sound is crucial to a good viewing experience.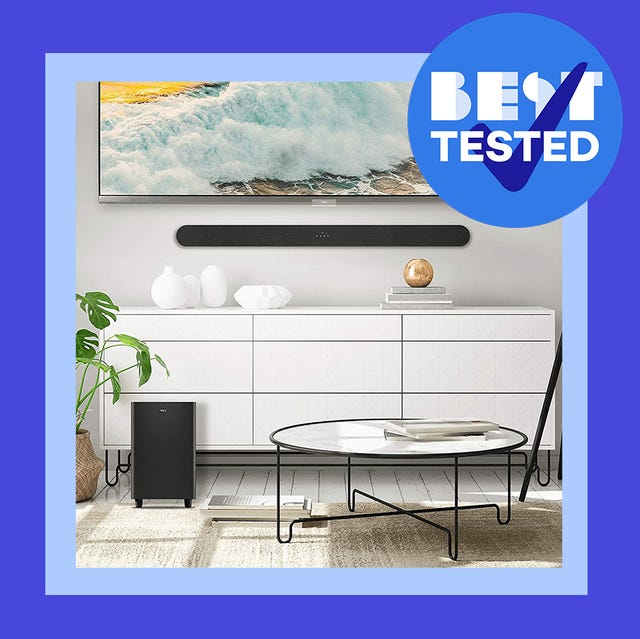 Soundbars have become a mandatory companion for just about every new TV out there. Such products can not only make the onscreen content louder and clearer, but also vastly more immersive.

To find the best wireless soundbars for every TV setup, we thoroughly researched and tested several products ourselves, ranging from affordable soundbars for less than $100, all the way to luxury products that are design and tech masterpieces.

The Best Wireless Soundbars
How We Tested
To identify today's best soundbars, we spent many hours meticulously sifting through hardware specs, reading reviews from industry experts, as well as carefully analyzing consumer feedback. The hardware specs included the number of audio drivers a product has, compatibility with various types of enhanced audio content, as well as the wireless connectivity features it offers, among other bits.
We focused our testing efforts on leading audio brands like Bose, Klipsch, Polk Audio, Samsung, and TCL, to name a few. During our testing process, we evaluated each soundbar based on the following criteria:
Sound quality — how the products performed while delivering various types of audio content.
Design — their ability to blend in with the home decor.
Ease of use — setting up the product and accessing its features.
Connectivity features — availability of Wi-Fi and Bluetooth.
Smart functionality — compatibility with virtual assistants like Amazon Alexa and Google Assistant.
To analyze sound quality, we spent time watching movies (essential for experiencing the overall acoustic performance of every soundbar, including the ability to process enhanced surround sound), following the news to determine each product's ability to deliver crisp dialogue, and rocking out to an eclectic Spotify playlist to experience their bass, treble, and mid-range delivery.
In 2021, it is imperative that a soundbar supports enhanced surround sound from Dolby and DTS. It makes the viewing experience more engaging even during seemingly mundane scenes. Enhanced content is best showcased during action-packed scenes, and it is abundant on all major streaming services.

We also factored in the soundstage presentation of each soundbar we researched and tested. By utilizing a combination of built-in hardware and audio processing tech, the feature can literally make a product sound "bigger" than it actually is. A products' soundstage is most notable while listening to music and watching movies. For example, when playing the right content, a soundbar with a wide soundstage can create an impression that you are attending a live music performance.

Most of our picks will not only play nicely with your brand-new TV, but also connect and stream sound from your smartphone, tablet, or laptop over Wi-Fi or Bluetooth. We used an iPhone and a Samsung Galaxy smartphone to connect to the products and wirelessly stream content from Spotify. Where available, we put the product's Google Chromecast and Apple AirPlay 2 wireless connectivity (over Wi-Fi) through its paces, too.
Some of the finest offerings are also compatible with Amazon Alexa and Google Assistant voice commands. We evaluated their performance by setting up the virtual assistants, and using them to play content and control compatible smart home products. The products that are available with both assistants require users to choose one.
It's worth noting that even though these soundbars are wireless, they require users to connect them to their TV with an HDMI or an optical cable. The term "wireless" usually means that, in addition to Bluetooth and/or Wi-Fi connectivity, they have a separate subwoofer that doesn't require a cable to connect.

Learn more about our top picks now to discover the best wireless soundbar for your home.

This content is created and maintained by a third party, and imported onto this page to help users provide their email addresses. You may be able to find more information about this and similar content at piano.io